additional Updates added March 26th
SARS-Cov-2 UPDATE FROM VIENNA
I blogged several times about the Corona Virus, and a good summary can be found on this one
SARS-Cov-2 - the dreaded Corona Virus
it has all the links on it to previous blogs.
Since March 10th I've been in Self-Quarantine, but did go out shopping for food and a short walk on March 20th. So here is a Update from that walk - I took a couple of photos and shot a video, which I processed yesterday and finally posted on YouTube today.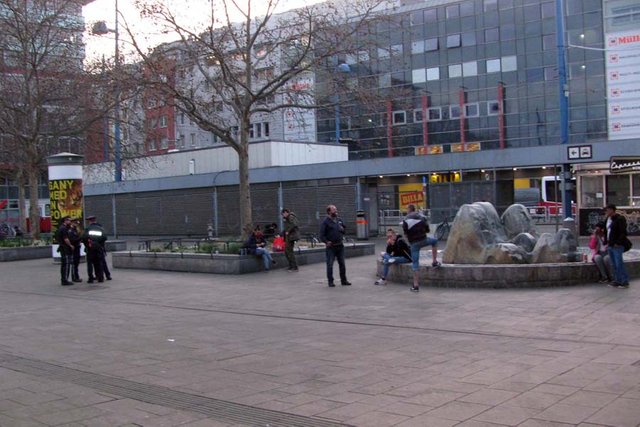 a ten minute walk from where I live in Vienna - Floridsdorf
SARS-Cov-2 - VIENNA - Floridsdorf, Franz Jonas Platz
20.3.2020 on location video by Otto Rapp
Music by David Fesliyan - "Villainous" - FesliyanStudios.com
A short walk in my neighborhood - I've been in self-quarantine for 10 days, except for shopping for groceries I pretty well stayed inside. This is about a 10 minute walk from my apartment. It is the transportation hub of our district.
Now if you compare the photo on top and the cover image of the video, you might see that the group of 5 police, I assume once they discovered I was taking a video, all of a sudden started paying attention to the people (regulars that usually hang out there, getting their beer from the grocery stores across the plaza). My first observation was that the police were just standing there in a group, certainly not keeping the prescribes "social distance", no protection and acting as if they were "immune" to the virus that our Government is warning about and enforcing restrictions on us mere mortals.
---
Again today, I checked the
Johns Hopkins University Update
and found something different in their reporting from previous days. The graph on the bottom right does not show the curve for China, nor for recorded cases, together with "the rest of the world" as previously, but now just one single curve of overall cases.
The orange curve represents China, the yellow curve the rest of the world, and the green curve the recovered cases.
On two previous occasions I had taken screen shot of the zoomed graph to compare. See below:
2020-03-16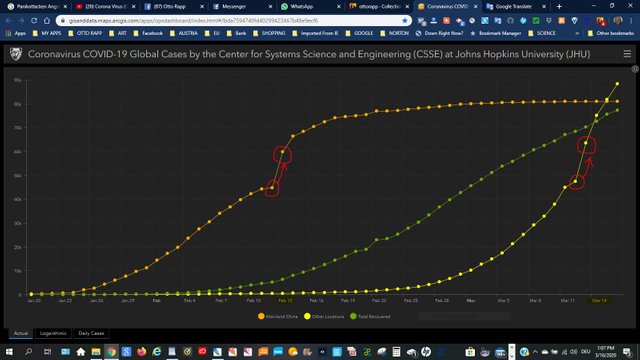 here I marked in red a significant rise in cases in China February 13th and correspondingly in the rest of the world a month later March 14th. At the time I thought that if things proceed like this, we could see a flattening of the curve for us the same way as for China. But this was not the case as you can see in the following screen shot three days later.
2020-03-19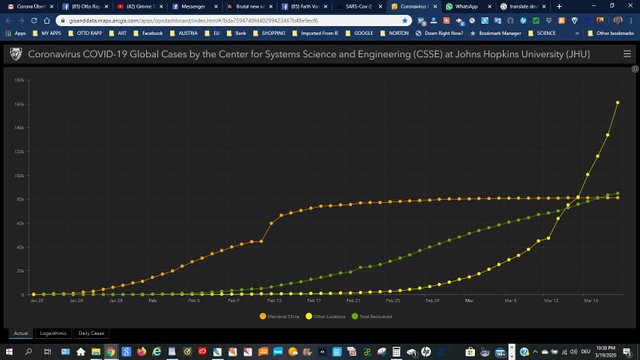 as you can see here, the J-curve for the rest of the world is shooting up rapidly, no sign of flattening down! While I looked on subsequent days, I did not take screen shots, unfortunately. There was a slight slowing down, but barely noticeable. So today, I was surprised to see that the format changed and we no longer see the other curves, see the screenshot below.
2020-03-23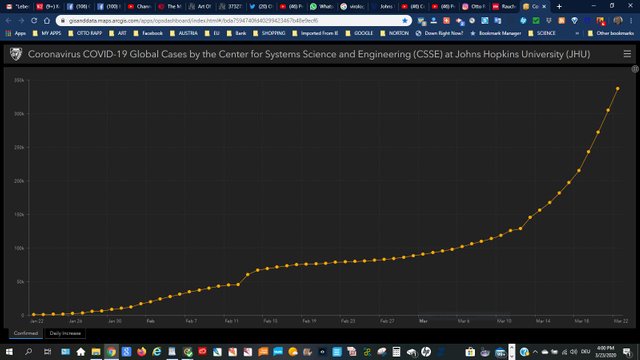 this is now a bare-bones graph that only shows the rest of the world, but not China, nor a curve for recovered cases - if they did, the contrast would be rather frightening to see, indicating how inadequate "our" responses were in comparison to China.
This is it for now - stay save everyone - avoid crowds, wash your hands often and follow the prescribed restrictions - if you are in a risk group, it would make sense to self-quarantine.
---

UPDATE SPECIFIC FOR VIENNA
A very informative note appears on the website of my Internist, very important if you are just looking to get a prescription, because now you won't have to visit the doctors office, but can do so electronically:
Liebe PatientInnen!
Auch während der Corona-Krise sind wir selbstverständlich weiterhin für Sie bzw. für Ihre Gesundheit im Einsatz und betreuen auch weiterhin PatientInnen.
Akute Beschwerden
Da sehr viele Spitalsambulanzen derzeit einen eingeschränkten Betrieb führen, übernehmen wir vermehrt die Betreuung von Patienten mit akuten Beschwerden. Idealerweise kontaktieren Sie uns vorher bitte telefonisch oder per e-Mail zwecks Terminvereinbarung.
Bestehende Termine
Bestmöglich können wir Ihnen helfen, wenn Sie zu Ihrem Termin persönlich erscheinen.
Sollten Sie zur Risikogruppe gehören und somit Befürchtungen vor einer Ansteckung haben und die Öffentlichkeit meiden, bieten wir Ihnen auch eine telefonische Betreuung an.
Grundsätzlich sind die Folgen von unerkannten oder nicht gut behandelten Herz-Kreislauferkrankungen immer noch schwerwiegender als bei einer Erkrankung durch das Corona Virus.
Rezepte
Rezepte für Ihre Dauermedikamente können entweder telefonisch, per e-mail (office@internist-nord.at) oder über das Formular "Rezeptvorbestellung" auf unserer Homepage (www.internist-nord.at) bestellt werden. Die Rezepte werden von uns in der Rosen-Apotheke (1210, Brünner Straße 37) hinterlegt, wo Sie dann Ihre Medikamente ab dem nächsten Werktag mit Ihrer E-Card abholen können. Alternativ können wir Rezepte per e-mail an Ihre Wunsch-Apotheke zuschicken.
Bitte halten Sie zu anderen Patienten in der Ordination möglichst Abstand (mind. 1 Meter) und desinfizieren sie Ihre Hände sofort nach dem Betreten der Ordination.
Gemeinsam verhindern wir mit dieser Vorgehensweise die weitere Ausbreitung der Corona-Infektion!
Ihr Team Gruppenpraxis Internist-Nord.at
Falls Sie befürchten, an Corona erkrankt zu sein, bleiben Sie bitte zu Hause und rufen Sie die Tel. Nr. 1450 an!
ENGLISH TRANSLATION:
Dear patients!
Even during the Corona crisis, we are of course still working for you and your health and continue to look after patients.
Acute complaints
Since a large number of hospital outpatient departments are currently running a restricted operation, we are increasingly taking care of patients with acute complaints. Ideally, please contact us in advance by phone or email to make an appointment.
Existing appointments
We can help you as best as possible if you appear in person at your appointment.If you belong to the risk group and are therefore afraid of infection and avoid the public, we also offer you telephone support. Basically, the consequences of undetected or poorly treated cardiovascular diseases are still more serious than those caused by the corona virus.
Prescriptions
Prescriptions for your long-term medication can be ordered either by phone, e-mail (office@internist-nord.at) or using the "Prescription pre-order" form on our homepage (www.internist-nord.at). We store the prescriptions in the Rosen-Apotheke (1210, Brünner Straße 37), where you can pick up your medication with your e-card on the next working day. Alternatively, we can send prescriptions to your desired pharmacy by e-mail. Please keep as far as possible from other patients in the ordination (at least 1 meter) and disinfect your hands immediately after entering the ordination.Together we prevent the further spread of the corona infection with this procedure!
Your team group practice Internist-Nord.at
If you are concerned about Corona, please stay at home and call 1450!